Did you find another SteelSeries product to better suit your needs? Or are you still getting clobbered in your game?
If you're looking to return your newly purchased product, including apparel, SteelSeries offers a 30-day return policy. * (Made-to-order items cannot be canceled, returned, or exchanged. (Learn more here: Warranty Policy)
In case you're not satisfied with a product purchased from SteelSeries.com we offer a full 30-day money-back guarantee, valid from the date of delivery. The refund includes the total on your receipt only and does not include the cost of shipping the order back.
If you placed an order without creating an account, you may create a new account here using the same email you placed the order.
To request a refund, please go to:
Order History (1) > Start a return (2) > Fill out the form and hit Submit (3)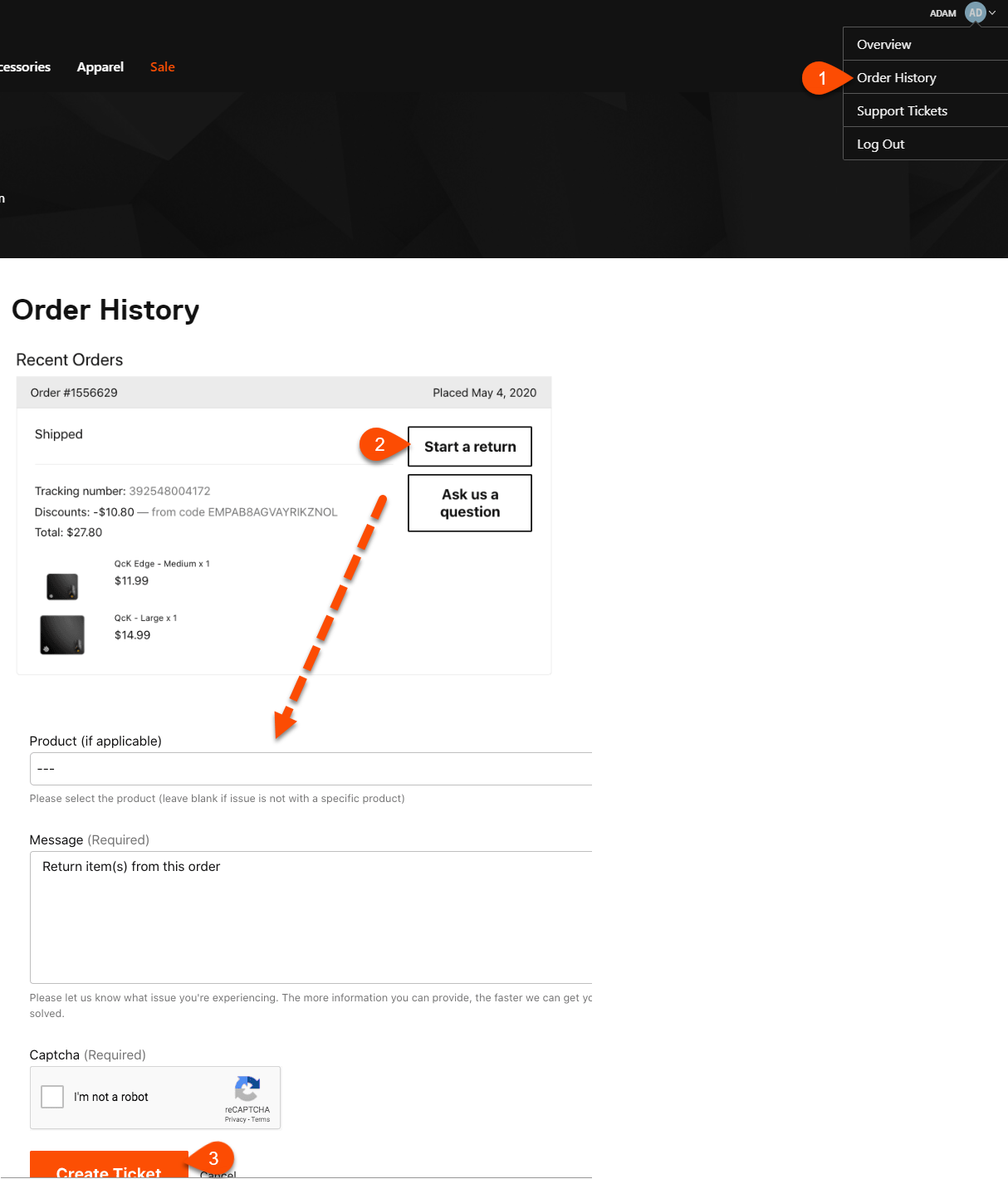 Unfortunately, we are unable to cancel your order once it has been dispatched from our warehouse.
If your order has been shipped but not delivered yet, please call the courier and refuse the parcel, or you may refuse the parcel at delivery, and it will return to sender back to our warehouse.
If FedEx is being used as the courier, you can also create an account and/or log in to FedEx Delivery Manager for this process, link below!
https://www.fedex.com/en-us/delivery-manager.html
Frequently Asked Questions:
Can I return my custom device?
You've been a game device designer and created your own one-off product, and we wanted to get every detail right. For that reason, these custom devices aren't able to be canceled, returned, or be exchanged.
When will I get my refund?
Allow up to
two weeks
from delivery confirmation for the refund to post to your original form of payment. Sometimes the courier marks the package as "Delivered" days early. We cannot take responsibility for carriers not delivering the package.
Do you provide a shipping label?
We do not cover return shipping for refunds. You can use any carrier you please - while not required, it is strongly recommended you provide us with the tracking number to ensure the quickest turn-around time.
My product is not working
If you would like to be transferred to a troubleshooting specialist, they will attempt to assist you with this issue. Unfortunately, we cannot provide return labels for any customer who states their product is defective as in most cases, this is a simple issue or error that is
fixable
.
Holiday Return Extension
*Orders placed between November 20th - January 2nd are eligible for an extended return period. Customers who order during this time period may have 45 days from the date of purchase to return to SteelSeries.