If you are unable to complete a firmware update, please take the following steps:
1. If you have access to a second computer, try firmware update on backup machine.
2. Try quitting and restarting SteelSeries GG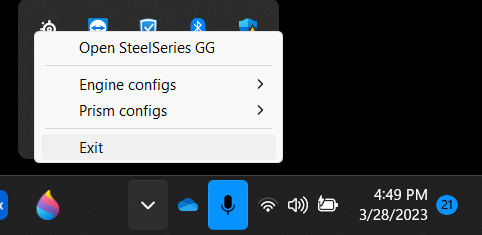 3. Fully Uninstall/Reinstall SteelSeries GG.
4. Please restart your PC.
If this does not work please also try the following,
Swap USB ports from 2.0 to 3.0 or vice versa.
Plug the device(s) directly into your PC if you are using a USB hub or External hubs.
Please check if you have a VPN or firewall enabled, if yes please try to disable them as some protocols hinder these updates.
**If you come across this issue on your Mac. Could you please add the SteelSeriesEngine.exe and SteelSeriesEngineClient.exe to your exclusions list to see if the firmware update will be successful? You may have to reboot after making these changes. Then try launching the Engine software again to do the firmware update.**

You may need to enable the input monitoring permissions in Security & Privacy Settings for it to work.
Apple Menu -> System Preferences -> Security & Privacy -> Privacy Tab -> Input Monitoring
If the checkbox is greyed out, please click the lock icon in the lower left to enable editing.