SteelSeries GameSense now supports auto-clipping for Overwatch 2 within Moments!
NOTE: Auto-clip will only save clips based on specific in-game events when playing with supported modes and configurations.
Activation Instructions:
1. Verify you're on GG Version 28 or higher by launching GG and navigating to Settings -> About
2. If needed, click "Check for updates" to manually force an update

3. Once you're updated to the supported version, close the GG app
4. Launch Overwatch 2
5. Confirm you're setup for auto-clipping by making sure "Gameplay capture" is toggled on, switch out of Overwatch 2, launch GG and navigate to the Moments section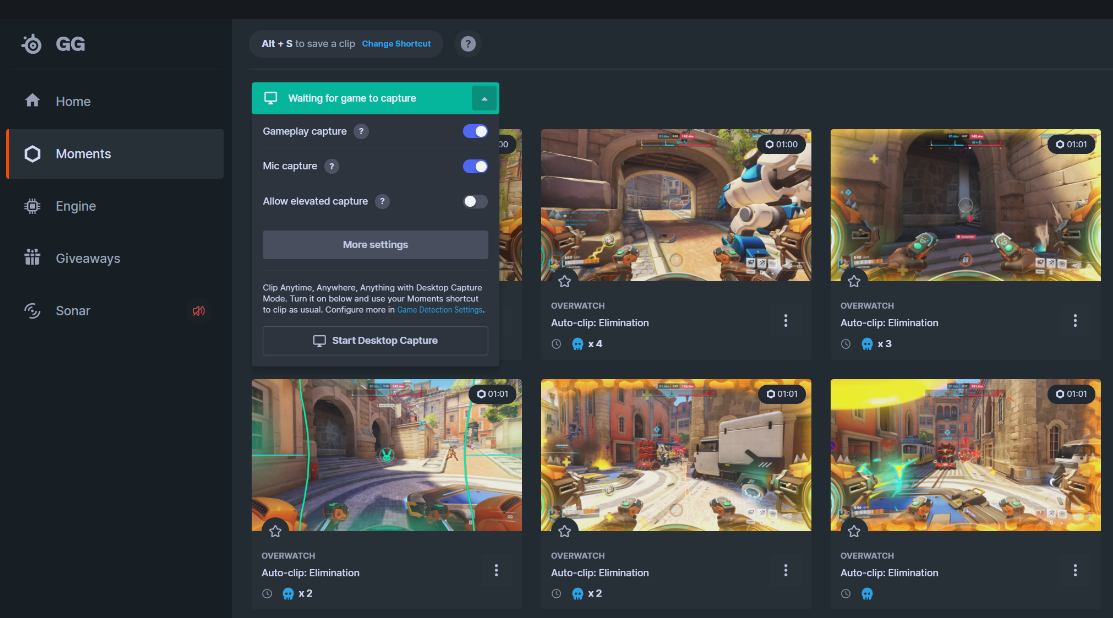 6. To select which in-game events trigger auto-clipping, go to Settings > Auto-Clip Events and scroll down to "Overwatch 2"

What gets auto-clipped?
| | |
| --- | --- |
| Event: | Explanation: |
| Play of the game | Clip every Play of the game |
| Team Kill | Any time your team kills the entire team in a short time span |
| Multikill | Any time you earn 2 or more eliminations in a rapid succession. |
| Elimination | Any time you have earn an elimination. |
What are the system requirements?
Overwatch 2 auto-clipping is in Early Access, make sure your system meets these requirements:
Hardware:
Full HD: 1920x1080
Quad-HD: 2560x1440
4K: 3840x2160
Standard: 1600x900, 1366x768 - Ratio 16:9
Default Color Settings - Required for optimal performance
Languages:
If it doesn't, try this:
Close GG
Reconfigure your system
Re-launch GG to confirm that it detects Overwatch 2.
Jump back to the game and start playing.
Important Note: SteelSeries GameSense currently does not support Windows11 HDR settings. We continuously work to improve compatibility and bring you the best auto-clipping experience! Until further notice, we recommend disabling HDR so you can enjoy the ease of hands-free clipping.
Happy Auto-Clipping,
GLHF!