Firmware updates are only available in SteelSeries Engine 3, on a Windows PC.
1) Plug in your Stratus XL W&A controller to your PC via the micro USB port located in the battery compartment. You will need a micro-USB to USB cable which is not included with the controller.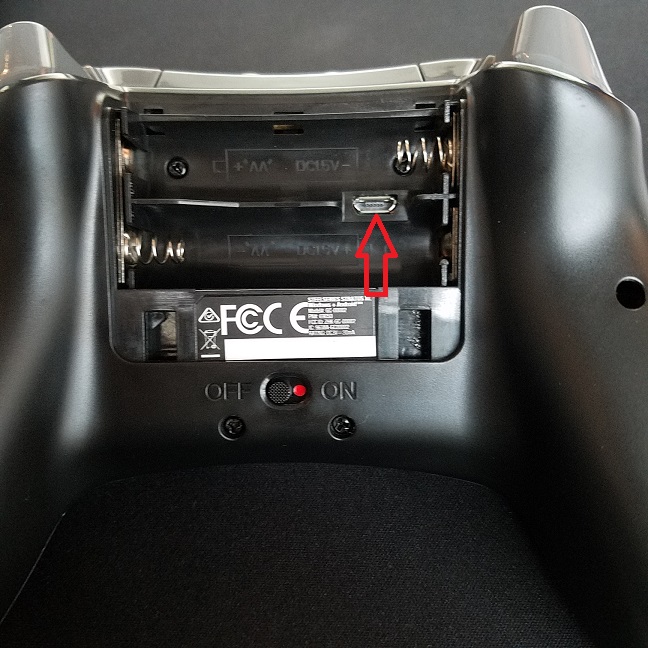 2) Download and install the latest version of SteelSeries Engine HERE
It is extremely important to make sure you have the latest version. Here's how to check.
3) Click the red banner below the product that says "CRITICAL UPDATE"

4) Allow the firmware update to run completely and leave the controller plugged in. Once complete, you should get a pop-up dialog that looks like this. To follow this process in detail, please see step 5.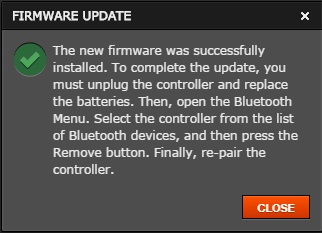 5) After the firmware update to make sure your Stratus XL can pair successfully:
a. Unplug the cable put the batteries back in
b. Power the controller on
c. Navigate to your Bluetooth devices menu in Windows
d. Click the Stratus XL and select "Remove Device"
e. Power the controller off and on again
f. Under the Bluetooth devices menu in Windows, select "Add a device" select "Bluetooth"
g. Press and hold the pairing button on the Stratus XL until all 4 LEDs flash
h. Allow Windows to complete the pairing process.
i. Once done, power cycle the controller one more time.
j. Press a button on the gamepad of the controller and it should active-pair (shows 1 solid LED)
6) Verifying the controller is connected and working: click the Windows icon at the bottom right, type "Controller" and open "Set up USB Game Controllers"
From here, click properties, and under the "Test" tab, pressing buttons and joysticks should show changes on the screen.