The headset portion of both products is identical. From the hi-res capable speaker drivers to the lightweight steel and aluminum alloy construction, everything is exactly the same.
The difference lies in front-end electronics. Arctis Pro includes a USB ChatMix dial, which connects to a PC. This allows for surround sound, ChatMix, EQ, and illumination for PC gaming.

As the name implies, Arctis Pro + GameDAC includes a far more advanced front end, the GameDAC. This is a dedicated Hi-Res certified DAC and headphone amplifier purpose-built for gaming.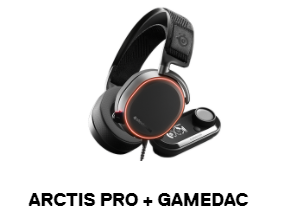 The GameDAC produces a high level of audio fidelity that puts it on par with some truly great DACs from the audiophile world. Additionally, the version with GameDAC offers full support for PS4 gaming. And with its OLED screen interface, there is no software required to customize your settings.